LAKELAND (KLAL) -- New Restaurant open at Lakeland Regional Main Terminal. Come and Try It! ROMINA_HERNANDEZ@HOTMAIL.COM
Venice (VNC) -- The Honoluana Island Grill and Tiki Bar on the field in Venice is now open from 11:30 a.m., 7 days a week, with live entertainment on Friday and Saturday.  Proprietor suggests calling ahead to verify live entertainment for specific date. Phone:  941-483-3553.  The Cockpit Cafe on the field is also open for breakfast until 2 p.m, Closed Mondays. I love to fly in to Venice and spend the day walking on the beach and searching for shark's teeth. I really enjoy sit in a pavilion on the boardwalk (through the park) with a cold drink and sandwich, and just listen to the surf. Great stress relieving day. Randy Smith.
Williston (X60) -- New restaurant. Williston, Fl X60. Pyper Cub Restaurant. Located just 100 yards Northwest of the FBO. Wonderful, reasonably priced food. Staff warm and friendly, not like the big cities. simoneboccagni@bellsouth.net
Venice (VNC) -- Just south of Sarasota is one of Florida's best kept secrets. Incredible approaches right over the gulf provide the visitor with an immediate sense of "the good old days". Once secured on the ramp, there are many restaurants nearby, including the Gondolier, several waterfront restaurants and even some B&B's and other overnight accommodations. A really fun place to visit.
Crystal River (CGC) -- is a great destination! There are 5 restaurants within walking distance of the airport. (One is fine dining, the others are casual). The Plantation Resort will also send a courtesy car to pick you up - they have a great Sunday Brunch, and an awesome golf course. There are lots of things to do - golf, diving/snorkeling in the springs, gulf or river fishing, manatee-watching, kayaking, etc...there will soon be a link to the area attractions at this website: www.citrusaviation.org In the meantime, there are e-mail addresses for the board members of the group, who are happy to share information!
Punta Gorda (KPGD)-- New restaurant opened at Charlotte County airport (kpgd) Skyview Cafe. Excellent breakfast and lunch to 3:00pm with speciality items, Friday to 8:00pm (fish fry). Lunch includes chicken walnut salad, wraps homemade soup and daily specials. Ed and Caroline Gallagher 941 637-6004
The Hangar Cafe (15FL) -- Located at Cannon Creek Airpark, Lake City, Florida, opened July 2001 in the Southernmost area of the 18 overrun. Open Monday thru Saturday from 11 a.m. til 9 p.m., Doris Thomas and her husband, Abe, serve up a delectable array of soups, sandwiches, salads, and desert in a relaxed, casual atmosphere. Moderate pricing. Stroll north to the Airpark office - a 128 year old farmhouse - and visit the gift shop for clothing, hand stitched aviation towels, placemats, etc, and mouth blown glass. Call ahead to reserve bicycles or golf-cart & spend an afternoon. (Golf course right across the street). Unicom 123.0 for clearance to land or call 1-800-766-0406 for Shirley Roos.
Chalet Suzanne (X25) --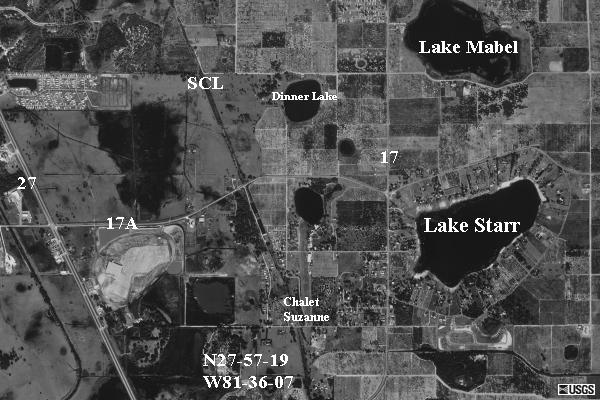 This exceptional eating establishment is located just north of Lake Wales. It supports a 2500' grass strip (shown to the right) which I personally have yet to find, even with a GPS. Many pilots choose to land at Lake Wales and call for transportation. The pilots I have spoken to about their food have given it outstanding recommendations.
Naples Municipal (APF) -- Michelbob's is located 0.5 miles off the field and is an outstanding BBQ restaurant. The FBO (Naples Airport Authority) will provide transportation if you would rather not walk. There are 3 additional restaurants (Chrissy's Cafe, Cracker's Grill, and the Runway Pub) all within walking distance or on the airport. We did fly over one Sunday and Michelbob's was closed. Check on restaurant hours before setting your heart on BBQ.
Sebring (SEF) -- If you're looking for racing excitement and an excellent meal, then fly over to Sebring Regional located within the Lake Placid MOA. They have just completed a brand new terminal and the restaurant is still providing incredible breakfasts and lunches. And while there, walk over to the race track and you'll probably see several race drivers taking their turn at the famous Sebring Racetrack!
Key West (EYW) -- For those Island-Hopping enthusiasts who never like to be out of sight of land, here is the ultimate over-water adventure! Just stay close to US 1, and you get to enjoy one of the most beautiful flights imaginable. Whether you head south down the East coast or zip past Homestead or the West Coast over open water, you will enjoy seeing many different shades of blue as you view the Atlantic and the Gulf of Mexico. Many people stop at Marathon en route for fuel and to enjoy the many activities they have planned throughout the year. But Key West International is where most pilots yearn to see. Just be careful that you don't mistake the "International" for the large military presence just to the East. In fact, you may be diverted slightly to avoid their airspace. Once you see the long East-West runway of Key West, you'll know you are there. If you are planning a day trip, start out early. The cab ride runs about 5-8 dollars into town. From there you can walk the entire route starting at Mallery Square. Lot's of B&B's as well as other accommodations. You can rent bikes, scooters or simply ride on a horse drawn carriage. Many street performers. And the eateries may cause you to go over gross!
Cedar Key ( CDK ) -- Just southwest of Gainesville at the end of Highway 24 is this quaint town that some have described as Key West 50 years ago. If you're looking for the way Florida may have appeared in times past, then you deserve to give yourself a break and visit the charm and beauty of this wonderful gulf community. The runway is about 2200 feet, lighted and is a short ride from town. There are many places to eat or stay while visiting this rustic part of Florida.
St. Augustine ( SGJ ) -- Fly into St. Augustine and take a cab to the old section of town. Plan to spend a good part of a day just visiting the museums, fort, restaurants and other facets of this remarkably historic town. Although you may use the courtesy car for a few hours, it is best to just get to the old section of town and walk, if able.
Renaissance Vinoy Resort in St. Petersburg (SPG) --

The Renaissance Vinoy Resort is a Mobil 4 Star Florida GetAway located very near Albert Whitted. The original hotel was built in 1925. It re-opened in 1992 after a massive restoration. It has five restaurants that range from casual to elegant. Alfresco's, for a sandwich or lite meals, the Terrace Room, traditional American menu and a knock-your-socks-off Sunday brunch buffet, and Marchand's offering Mediterranean cuisine,. Be aware that it is more expensive than your average airport restaurant, $6 - $10 per person for lunch at Alfresco's or $35 for the Sunday brunch in the Terrace Room. If you call the hotel from SPG, they will send the hotel limousine to pick you up and will deliver you back to SPG after eating. If you want to RON, they offer a private marina, 18-hole golf course, 14-court tennis complex and croquet courts. There are some neat museums nearby, like the Salvador Dali Museum and the Florida International Museum. Renaissance Vinoy Resort 501 5th Avenue NE, St. Petersburg, FL 33701, Telephone: 813-894-1000, Fax: 813-894-1970, from Frank Nocera
River Ranch Resort ( 2RR ) -- This is a fun place to visit. Located south of Orlando Class B and just above the R2901 Restricted Area, this restaurant is easy to find. Actually, the restaurant is part of a resort with an exceptionally good runway, transportation provided (custom driven by golf cart) plus other amenities. Weekends are loaded with activities including River boat rides, Fishing charters, Sunset cruises, Horseback riding, Trap & Skeet shooting, Pony rides, a petting zoo, a street dance, Food and entertainment, Midway carnival games, Rodeos and much more. Note: This Recommendation by Ollie Washburn of skybolt-aviator@msn.com "River Ranch resort and restaurant on waterway are open again and restaurant [has] been redone and is very nice."
Ocala -- Just south of Gainesville and a great stop before heading to those great football games. "The restaurant is small but has very good food", says skybolt-aviator@msn.com
Ft. Lauderdale -- Jet Runway Café is a bustling, upscale eatery tucked away inside Fort Lauderdale's Executive Airport (KFXE). Serving jet setters and patrons with discerning taste since 2008, you've arrived at Fort Lauderdale's most exclusive breakfast and lunch destination. Award winning food, amazing views and great service. It's located in the Banyan complex. http://jetrunwaycafe.com/